Governor Gianforte, Lieutenant Governor Juras Delivering Red Tape Relief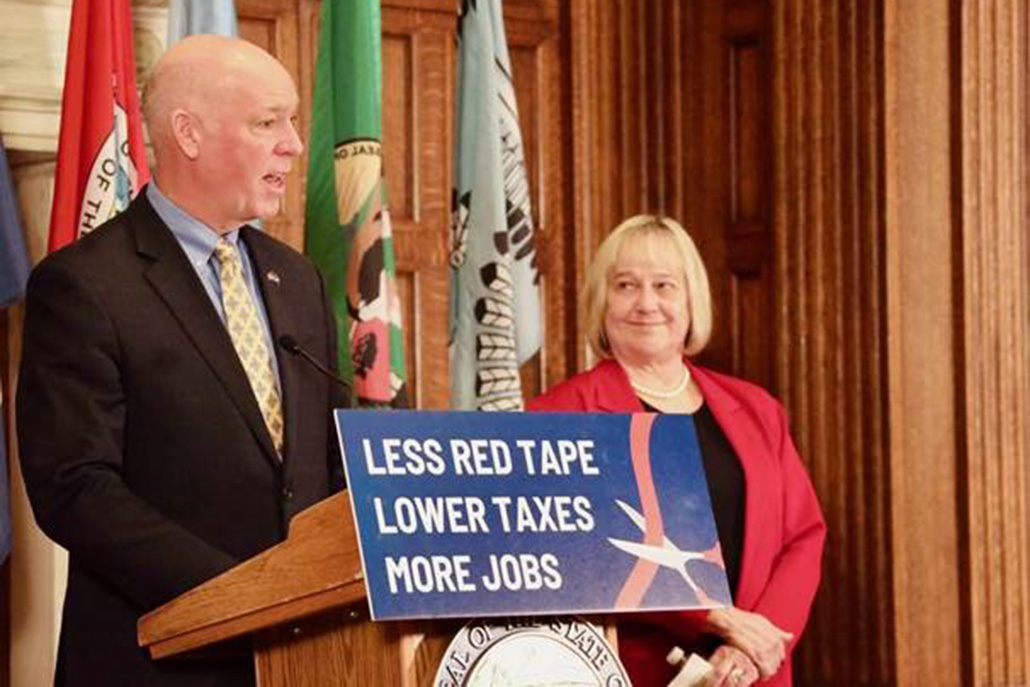 HELENA – Alongside Lieutenant Governor Kristen Juras, Governor Greg Gianforte today highlighted the work of his Red Tape Relief Task Force and pointed to its meaningful results to reform, roll back, or repeal the state's burdensome, outdated, and unnecessary regulations.

"Our red tape relief efforts are focused on creating a reliable, business-friendly regulatory environment to help job creators to what they do best – create jobs and opportunity," Gov. Gianforte said in a press conference at the State Capitol. "Ultimately, creating greater opportunities for you, your kids, and your grandkids to prosper motivates me every day. Where we can get government out of the way, so that you can thrive, we'll continue to do that."

In his first week in office, Gov. Gianforte established the Red Tape Relief Task Force through executive order to conduct a comprehensive, top-to-bottom review of regulations in every state agency.

Led by Lt. Gov. Juras, the Red Tape Relief Task Force has identified burdensome, outdated, and unnecessary regulations that need to be reformed, rolled back, or repealed. The task force is also working to overhaul policies that limit the responsiveness and effectiveness of state government.

"As an attorney for over 40 years, representing farmers, ranchers, and small business owners, I understand the burdens they face brought on by unnecessary, outdated or inefficient regulations," Lt. Gov. Juras said. "There's actually a law on the books that requires agencies to review their regulations every two years, but quite frankly, before our administration, that hadn't been done. We're committed to delivering meaningful regulatory reform and improving internal policies to make state government more efficient and help more Montanans prosper."

The task force is reforming Montana's regulatory code to spur innovation, grow Montana's economy, and create more good-paying jobs.

"Lieutenant Governor Juras worked with each state agency to go through Montana's regulatory regime to reform, roll back, or repeal unnecessary, cumbersome red tape," Gov. Gianforte continued. "She worked with industry stakeholders and incorporated widespread public input to inform her process. Because of her leadership, we've made great progress."

As a result of the task force's work, the Montana Legislature is currently considering over 170 red tape relief bills, many of which have already passed the House or Senate.

"We appreciate our legislative partners for helping more Montanans prosper by removing unnecessary, burdensome regulations, and we're ready to get these bills across the finish line," Gov. Gianforte concluded.
---
Tags: Choose Montana