Missoula Business Wins Retailer of the Year Award at 2023 Made in Montana Tradeshow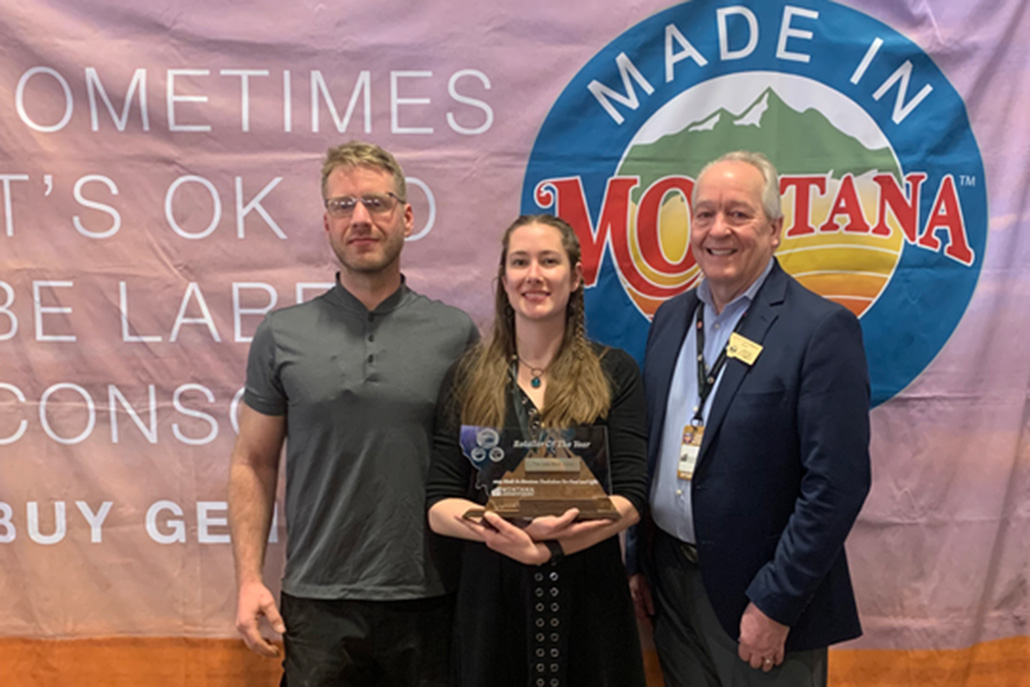 HELENA, Mont. – Montana Department of Commerce Director Scott Osterman today honored Brooke and Alex Blackler, owners of The Last Best Store in Missoula, with the 2023 Retailer of the Year Award at the annual Made in Montana Tradeshow for Food and Gifts in Helena.

"Every year, the tradeshow features the best of Made in Montana, Grown in Montana and Native American made goods that are produced right here in our state," said Scott Osterman, Director of the Montana Department of Commerce. "We're always very impressed and excited about what these Montana businesses contribute to the show to make it so successful. I want to congratulate The Last Best Store on winning the Retailer of the Year. Brooke and Alex demonstrate great support for their local economy and creatively showcase the incredible talent that Montana has to offer."

Located in Missoula's Southgate Mall, The Last Best Store has its own line of products and features more than 100 different local artists, creators and businesses. The store offers everything from handcrafted jewelry to homemade jams, and a wide variety of high-quality, locally made goods that represent the best of Montana.

"We believe in elevating Montana manufacturing and giving local artists and businesses a platform to showcase their products. By supporting our store, you are not only supporting our small business, but also the community of talented individuals who call Montana home," said Brooke Blackler, co-owner of the Last Best Store. "We take pride in creating an environment that is representative of our state and its people. Rather than a corporate atmosphere, our store is a welcoming space that showcases the culture and creativity of Montanans. We invite you to come in and experience the spirit of Montana for yourself."

Each year, Montana retailers are nominated by their peers to receive the Retailer of the Year Award. Commerce Director Osterman also presented the following awards to businesses at the show today:

Best in Show Overall – 41 Grains, based in Circle, takes raw grains from local farmers in McCone County (county 41) and turns it into nutritious flours and mixes that are custom ready and free of additives.

Best in Show New Exhibitor - Maiden MT Pet Treats, based in Lewistown, is a multi-generation Veteran and family-owned, family-operated, small business in the center of Montana's big sky country.

Best in Show Honorable Mention – Medicine Springs, based in Helena, offers products that replicate the healing properties of hot springs in a skin-safe formula that allows consumers to turn their bathtubs or hot tubs into a world-famous mineral spring.

The tradeshow continues tomorrow at the Lewis and Clark County Fairgrounds and is open to the public from 9:00 a.m. to 5:00 p.m.

For more information about the Made in Montana program and the tradeshow, click here or connect on Facebook.
---
Tags: Brand MT