Commerce's ExportMontana Team Receives National Award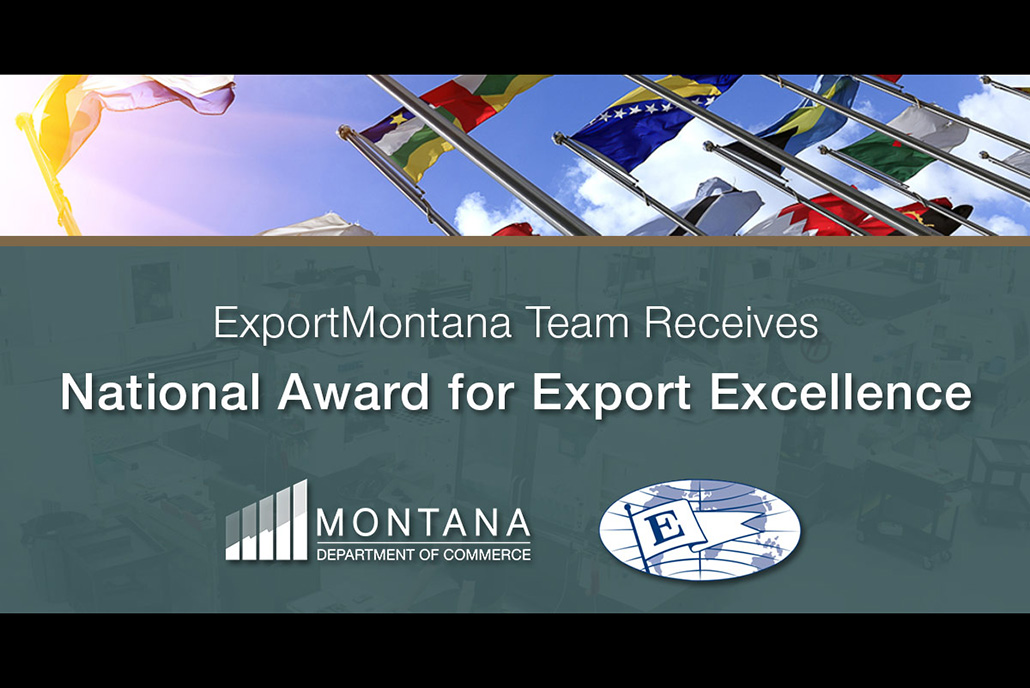 HELENA – The Montana Department of Commerce announced today that ExportMontana was awarded the "E Award for Export Service" from U.S. Secretary of Commerce Gina Raimondo at the President's "E" and "E Star" awards ceremony that was recently held in Washington D.C.

"Commerce's ExportMontana team works to ensure that our state continues to grow through the creation of a strong and sustainable future in the global economy," said Montana Department of Commerce Director Scott Osterman. "Our top-notch team helps Montana companies access domestic and international sales potential; provides regional, national, and international trade promotions and grants for developing new markets; and offers personalized assistance with domestic and international logistics, compliance, and financing. Our ExportMontana team is highly deserving of this honor."

ExportMontana was one of five entities honored with the "E" Award for export service for assisting and facilitating export activities. The award is considered the highest recognition a U.S. entity can receive for contributing to the expansion of U.S. exports.

Winners of the "E" and "E Star" Award are authorized to fly the blue and white banner, to display the accompanying certificate of commendation which is signed by the Secretary of Commerce in the name and by the authority of the President, to wear and issue employees an "E" or "E Star" lapel pin, and to refer to the award in their advertising.

"Since 2014, ExportMontana has assisted 855 Montana exporters with $4.3 million in State Trade Expansion Program grant funding, resulting in $644 million in additional export sales," said Liane Taylor, Business MT Division Administrator. "I am proud that our ExportMontana team, and all of their efforts, are being recognized on a national scale."

ExportMontana provides export information, as well as technical and marketing assistance to Montana companies in pursuit of international commercial opportunities. The office helps local companies diversify their customer base and increase sales of Montana products and services overseas.

For more information about Export Montana, visit BUSINESS.MT.GOV.
---
Tags: Business MT