Governor Gianforte Celebrates Progress of Red Tape Relief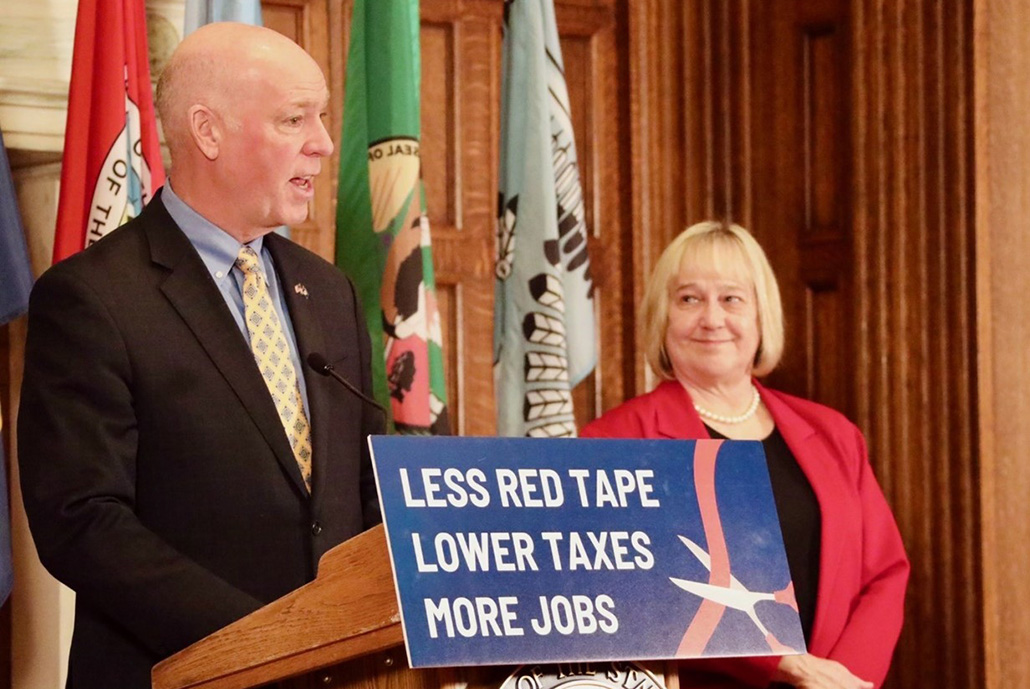 HELENA, Mont. – Governor Greg Gianforte today celebrated the work of his Red Tape Relief Task Force to reform, roll back, or repeal the state's burdensome, outdated, and unnecessary regulations this legislative session.

"Through red tape relief, we're making government more efficient and responsive and creating greater opportunity for hardworking Montanans," Gov. Gianforte said. "I appreciate the hard work of the lieutenant governor, state agencies, and our legislative partners to improve state government and help more Montanans prosper."

In his first week in office, Gov. Gianforte established the Red Tape Relief Task Force through executive order to conduct a comprehensive, top-to-bottom review of regulations in every state agency.

Led by Lieutenant Governor Kristen Juras, the task force introduced 188 red tape relief bills this session, 54 of which have been signed by the governor. Taken together, the bills simplify and modernize state code, make government more efficient, and create greater opportunity for Montanans.

"As part of our review, we took a hard look at century-old statutes," Lt. Gov. Juras said. "Montana today looks a lot different than it did 100 years ago, and our laws should reflect that."

Last month, Gov. Gianforte repealed a law from 1925 requiring Montanans selling agricultural products door-to-door to be licensed as a "huckster" and pay fees.

Lt. Gov. Juras continued, "We also looked at ways we could make government more efficient to better serve Montanans, and ultimately, create greater opportunity for them."

To support Montana producers, the governor recently signed into law HB 153 to expand online or video livestock auctions.

"Montana law shouldn't stand in the way of our ranchers and farmers thriving in today's economy. This was a commonsense fix to help them keep pace with a transforming industry," Gov. Gianforte said.

The governor also signed a bill to allow all Montana colleges and universities to obtain academic brewing licenses. Montana law previously permitted only Montana State University Billings and Flathead Valley Community College to obtain licenses.

"Allowing more academic brewing licenses will expand research capacity, increase value-added ag opportunities for our producers, and grow our workforce talent pipeline in the brewing industry," Gov. Gianforte said.

The governor has signed a host of other bills to streamline requirements on the operation of alcohol-related businesses, helping job creators report necessary data, grow their operations, and create Montana jobs.

Gov. Gianforte also praised work done by individual agencies to cut red tape.

After leading a comprehensive water rights review, the Montana Department of Natural Resources and Conservation produced legislation to streamline the water permitting process and make it more predictable for users, including farmers and ranchers. HB 114 is currently before the legislature.

To improve delivery of services and save taxpayer dollars, the Montana Department of Transportation proposed a bill to innovate its procurement process. The bill, SB 57, is headed to the governor's desk.

"I'm proud of what we've accomplished so far. There's much more we can do to cut red tape, and we're committed to getting it done for hardworking Montanans," Gov. Gianforte said.

"As I've said many times, providing fundamental red tape relief is a marathon, not a sprint," Lt. Gov. Juras said.

"So, we'll keep pace," Gov. Gianforte said.
---
Tags: